It's already been several months since COVID-19 swept across the world, causing chaos across almost every industry sector. Now businesses need to prepare for further uncertainty, as well as a looming recession.
But there is a silver lining. Remote work is already well established in many enterprises. Even long before COVID-19, a huge percentage of the US workforce was already working from home at least some of the time. And the benefits are undeniable. These include reduced expenses on things like office space and utilities and, in many cases, improved productivity and morale. As all the disruption caused by the ongoing pandemic has shown, having a robust framework for accommodating remote workers also improves resilience and helps your business prepare for the challenges of tomorrow.
Still, facilitating remote work isn't always as easy as just giving employees a laptop and telling them to get on with things.
Working from home in the long run requires a number of changes and adaptations, such as the following:
1. Designate a suitable workspace
One of the biggest challenges when adapting to remote work is keeping home and work life separate. It's something many seasoned remote workers have struggled with for years. In the most extreme cases, it can end up feeling like you're at work all the time.
When you're used to going to the office every day, there's a clear physical separation. Remote workers should recreate this separation as much as possible by having a dedicated workspace at home. Ideally, this should be a separate room. If that's not feasible, a dedicated corner of the living room, for example, is still better than trying to work at the kitchen table.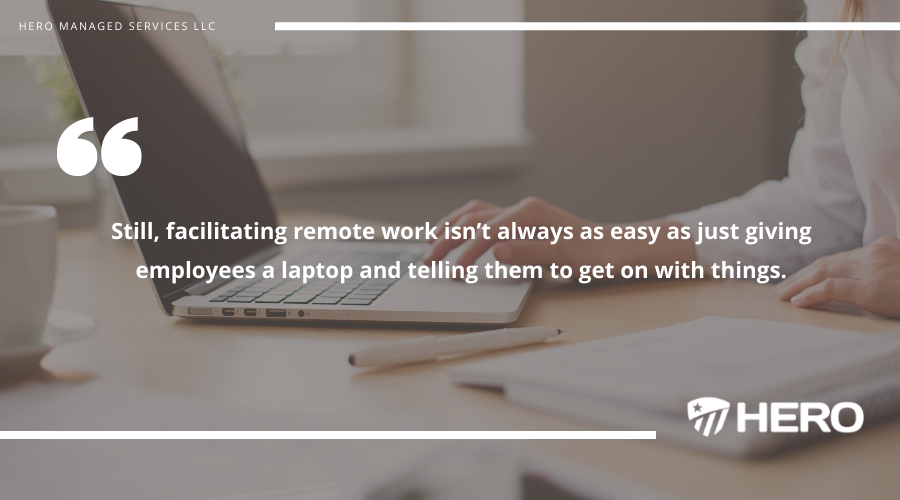 2. Stick to clearly defined work hours
Remote workers also need to dedicate clear timeslots throughout the day, not just to prepare for transitioning back to the office once the pandemic is over, but also for their own well-being. For those in more team-driven roles, it's also important to dedicate time to collaborating with your coworkers.
While remote work might offer the chance to set your own working hours, it's important to be consistent. Even freelance contractors need to set firm schedules to prevent work and home life from becoming inseparable.
3. Adapt your morning rituals
Many employees are used to preparing for the day's work during the commute. Others have their set morning rituals, after which there's a mental switch that tells them it's time to get to work.
It's important to accommodate your established habits as much as possible. This may include, for example, getting dressed before work, even if it might be tempting to wear pajamas all day. Nonetheless, since you'll be saving some time by not having to commute, there's nothing wrong with making a few small adjustments that better accommodate your lifestyle.
4. Keep distractions to a minimum
Distractions are one of the biggest challenges when working from home, especially if you live with others. You should make it clear to everyone else you live with that they shouldn't disturb you during working hours unless absolutely necessary. Instead, designate some breaks throughout the day to take care of any regular chores and spend time with loved ones.
Another benefit of having a designated workspace is that it gives you more opportunities to shut out distractions like the television or other disruptive noises. You can focus on the task at hand and create a clear boundary between your personal and professional life.
5. Communicate with your team regularly
Facing the sudden need to accommodate remote teams with minimal time to prepare has left many businesses struggling to retain their workforces and maintain reasonable productivity levels. Communication has proven to be one of the biggest challenges of all now that regular face-to-face meetings are out.
Employers should provide the necessary collaboration tools, such as Slack, Microsoft Teams, and Zoom, and have an established way of working remotely together. But it's also important for employees themselves to adapt, since it will help them work smarter and overcome social isolation.
HERO Managed Services is helping businesses adapt to the new normal with dependable IT support and scalable, tailor-made services. Call us today to schedule a free consultation.
Worried about cybersecurity?
The first step to ensuring cybersecurity is assessing your business for vulnerabilities. Contact one of our experts for a free IT consultation and find out how to make your IT more productive, your systems more secure, and your tech-related stress minimal.