Pop quiz, hotshot! Let's see if you can correctly answer the following questions. (Answers are at the end of this article.)
In 2017, which of the following was the most commonly used password?
What is the first thing you should do if your company receives a ransomware demand?
Determine if the demand is legitimate and follow instructions to get your data back.
Ignore the demand, but back up all data just in case.
Contact the police and do not pay the ransom.
Will you and your employees get the answers to these cybersecurity quizzes from Cybsafe and Cybercrime Magazine too?
If you and your staff lack cybersecurity knowledge and training, then your business is vulnerable to insider threats.
What are insider threats?
In cybersecurity, insider threats are risks that come from the people within or associated with your organization. These persons include current and former employees, contractors, and business associates.
Insider threats fall into two categories:
Malicious — These threats are intended to cause damage or loss to your company. Be especially wary of disgruntled employees who hold a grudge and want to retaliate.
Non-malicious — These threats are often caused by ignorance or human error. An employee's careless mistake can allow malware to infect your system or expose your data to unauthorized parties.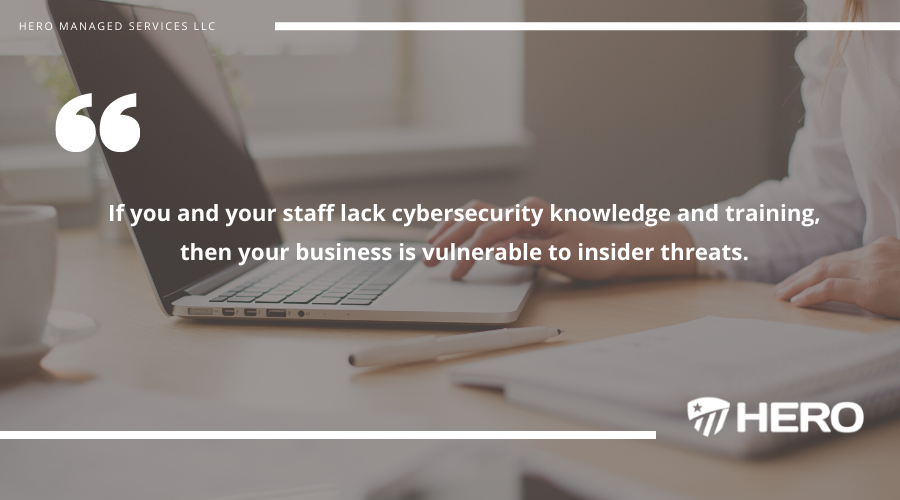 Why protect your Florida business from insider threats?
A comprehensive Florida cybersecurity study in 2018 showed that insider threats account for more than half of the data breaches in the Sunshine State. 48% of data breaches were because of a negligent employee or contractor, while 5% were caused by malicious insiders.
Experts warn that attacks will continue to increase in number and ferocity. Your company should prepare for this onslaught by training your employees about cybersecurity best practices so they don't become the weakest link.
4 Ways to protect your business from insider threats
Here's how Florida companies can protect themselves not just from threats outside but also from within:
#1 Invest in a robust data loss prevention solution
Data loss prevention (DLP) software controls and ensures your business's compliance with regulations on handling and storing sensitive business data. You have better control over who can view, change, and share confidential information. You can choose one from a list of top DLP solutions, or partner with a trusted local managed IT services provider like HERO Managed Services, LLC — our experts will recommend solutions based on your specific needs.
#2 Think beyond prevention and develop post-prevention plans
As yearly statistics show, prevention solutions cannot stop threats from both inside and out. Even the best preventive plans can fail under the onslaught of a determined hacker's attack. Should prevention fail, then you need a system to detect, investigate, and respond to any data loss immediately. You need a disaster recovery plan so you'll be able to resume business quickly should any disaster, natural or man-made, befall your company.
#3 Keep an eye on your data
You should know where you store your data, who has access to it, when it's transferred, and how it travels from endpoint to endpoint. That way, your security team will know where and how to protect your data.
#4 Rethink your internal processes
Aside from using technology to protect your company, you should also implement the following procedures:
Inform your employees that you have an insider threat program. This will discourage those who plan to do malice. And it will remind your staff that they need to be aware and compliant with security protocols.
Impress on your employees, especially your knowledge workers, that the work they create belongs to the company. That way, they won't consider them as their own.
Schedule regular security training sessions for everyone in the organization.
Choose a technology solution that detects anomalous file movements instead of blocking them. Too-strict precautions hinder processes, making them time-consuming and inefficient.
Be strict in your offboarding process. When someone resigns, they must turn over everything that belongs to the company. Make sure they don't bring company data with them.
Your employees are your greatest assets, but they can also be your biggest liabilities. We at HERO Managed Services, LLC will help you mitigate the insider threats to your business. For over 20 years, we've been the trusted partners of businesses in Tampa, Sarasota, and Orlando. Let us be the HERO at your side. Contact us today and get a free IT consultation.
Answers:
(b) 123456
(c) Contact the police and do not pay the ransom.
Worried about cybersecurity?
The first step to ensuring cybersecurity is assessing your business for vulnerabilities. Contact one of our experts for a free IT consultation and find out how to make your IT more productive, your systems more secure, and your tech-related stress minimal.